Brandi Williams
Playing poker with Brandi Williams makes everyone happy and could put you on tilt
What a great look this poker hottie has:
Playing poker and watching her might be the two best things you do all day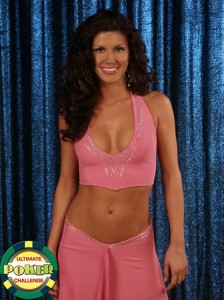 Brandi Williams
Born in the small town of Perryopolis , Pennsylvania , Brandi Williams eventually moved to Las Vegas to see what the city had to offer. She was approached by a local producer to audition for a television show, landing the job as a KTLA correspondent on the Vegas Minute , airing in Los Angeles . Since then, Brandi has become the entertainment reporter on Vegas Live , Las Vegas ' morning talk show on Fox 5, and has hosted Fox's New Years Eve Party alongside the ubiquitous Ryan Seacrest. Recently, Brandi agreed to co-host Blues Bikes and Babes with V-Man and Blues, and also report on any related events. She brings her unique charm and personality to the Ultimate Poker Challenge as its Field Correspondent.

Brandi Williams Poker Babe and HOTTIE