Live Pai Gow
Play with Live Dealers at your favorite online casino
Pai Gow poker is a relative new-comer to the casino scene. This game uses mahjong tiles rather than cards, giving it a unique twist on traditional gambling card games (the Americanized version of this game uses the standard 52 card deck). This game has increased enough in popularity over the last few years though, giving it a foothold in the online community. If this is your game, you owe it to yourself to find a live dealer. A software program cannot replicate the fun and anticipation that comes with having an actual dealer playing against you.
There are not many online casinos that offer this game, but those that do will give you an experience that you can only find within the confines of a brick and mortar casino. Even better, you can have the complete casino experience without leaving your home. The live experience eliminates the use of random number generators in the game, thus ensuring that you are getting the real life experience that only a live dealer can give.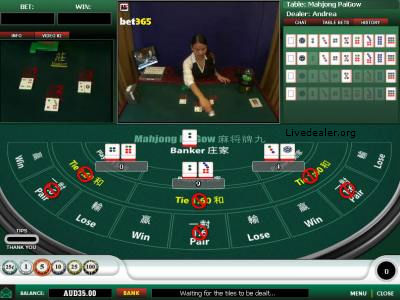 This game looks extremely complex at first glance, but the concept is quite manageable. You are dealt tiles and need to construct a better hand than the dealer in order to win. Most tables offer three player positions and reshuffle tile stacks after every fifth round. You have a number of different betting options with this game. You can bet to win, lose, tie, or get a pair. If you think you will beat the dealer, then the win bet is for you. A presumed loss to the dealer would warrant a lose bet. A winning tie bet indicates that both the player and the dealer received the exact same tiles. Finally, the pair bet is usually counted as a side bet independent of the actual outcome of the hand. With this you are guessing that you will get a pair of matching tiles.
One great development of this live game is the dual streaming video. You can see simultaneously the dealer's actions and a close up of your tiles. This convenience will only enhance your experience. Many sites also offer the option of tipping the dealer. If you want to use this option, feel free to tip—it can't hurt the tiles you are getting. But remember, every tip that you make is less money in your pockets at the end of the day. Play smart and tip only when it is most appropriate.
You have plenty of other options when it comes to playing in a live casino or if you are just looking to play some poker online.