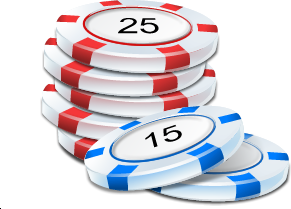 ,
Binary options and poker share a few similarities, actually, and the people who succeed in one of these fields might have what it takes to succeed in the other. The concept of betting an appropriate amount is something that translates between poker and binary options. The biggest and most important similarity between these two activities is the concept of risk. A good poker player knows just how much of a wager is too much, and when a wager is just the right size.
In poker, there is a concept called pot odds. This is important to the poker player who has not yet completed their hand. For example, if you have a four card flush in Texas Hold Em with the river still to come, you have about a one out of three chance of hitting your hand. Therefore, if the wager coming to you is more than one third of the size of the pot, you are risking too much and over the long run, this will cost you.
The important thing to remember is the phrase, "over the long run." Both poker and binary trading are long term investments. You want to ensure that your money making ability in either of these is going to continue down the road. So in binary options, you want to make your decisions based upon just how the success rate will affect you one hundred transactions from now, and longer.
Calculating your edge or your odds of success is much more difficult when it comes to binary options. There are tools that will allow you to do so, however, if you know where to look. For example, trends continue more often than not. If you can estimate that a trend has a 75 percent chance of continuing, you can use the Kelly Criterion to calculate just how much you should risk when trading binary options. This knowledge can help you to risk just the right amount of your cash, in much the manner that pot odds help a poker player to know whether they should continue seeing more cards, or if they should back out of a hand.
The great thing about binary options is that you don't have to put in money if you don't feel that the outcome is in your favor. With poker, there are often forced antes and blinds so you have a vested interest in more hands. If you are not careful, this can ruin you in poker. Thanks to the higher degree of freedom in binary options, you can elect to participate in only the trades that you feel are going to go in your favor. This should increase your earnings over the long run in a way that you can only try to compensate for in the game of poker.